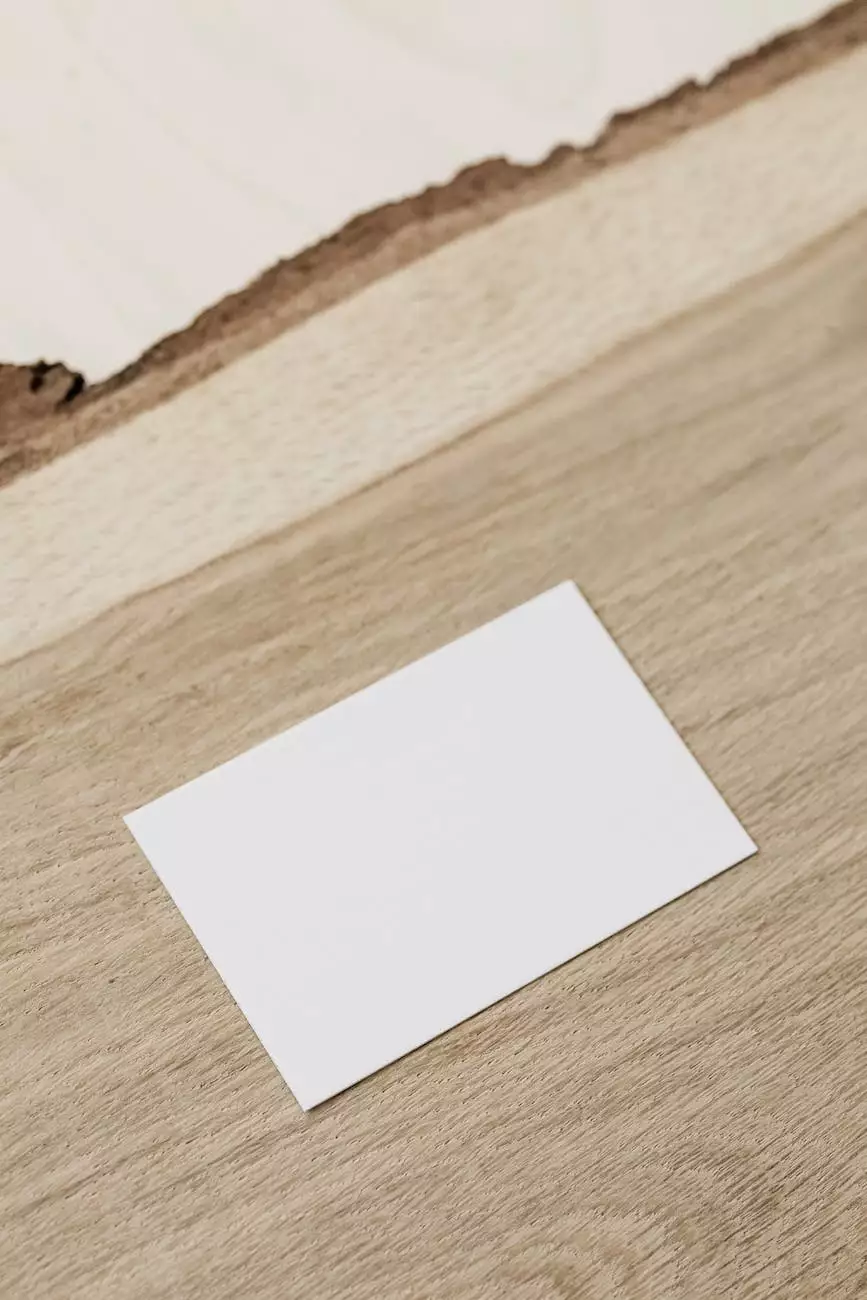 Shop our Collection of Exquisite Greeting Cards
Welcome to Anza Blades, your one-stop destination for high-quality jewelry and gems. We are delighted to introduce our exceptional collection of greeting cards with blank inside designs. Whether you are celebrating a birthday, anniversary, or any special occasion, our greeting cards are perfect for expressing your heartfelt sentiments.
High-Quality Greeting Cards For Every Occasion
At Anza Blades, we understand the importance of finding the perfect greeting card to match the uniqueness of your relationship with the recipient. Our collection features a wide variety of designs, ranging from elegant and traditional to contemporary and whimsical. Each card is meticulously crafted with attention to detail and made with premium materials to ensure a luxurious look and feel.
With our greeting cards, you have the freedom to customize your message and make it truly personal. The blank inside design allows you to fill the card with your own words, making it a heartfelt and cherished gift. Whether it's a heartfelt love note, a warm birthday wish, or a message of encouragement, our greeting cards provide the perfect canvas for your emotions.
Express Your Unique Style
We believe that every individual deserves a greeting card that reflects their personality and style. That's why we offer a diverse selection of designs to suit different tastes and preferences. From vibrant floral patterns to minimalist and modern designs, our collection caters to a wide range of aesthetic sensibilities.
Our greeting cards are not only suitable for personal use but also make great additions to gift sets or as stand-alone gifts for friends, family members, or colleagues. They add an extra touch of thoughtfulness to any occasion and are sure to leave a lasting impression.
Unparalleled Quality and Craftsmanship
At Anza Blades, we take pride in the exceptional quality of our products. Our greeting cards are meticulously crafted by skilled artisans who pay attention to every detail. From the intricate designs to the choice of materials, we strive to deliver a product that exceeds your expectations.
Each card is made from premium cardstock, ensuring durability and a luxurious feel. Our commitment to quality extends to the printing process, where we use state-of-the-art equipment and techniques to achieve stunning, vibrant colors that stand the test of time.
Convenient 4-Pack Bundle
To provide the best value for our customers, we offer our greeting cards in a convenient 4-pack bundle. This means you can have multiple cards on hand for various occasions or even a backup for those unexpected events. With our 4-pack bundle, you won't have to worry about running out of cards when you need them the most.
Shop with Confidence
When you shop at Anza Blades, you can be confident that you are getting a product of the highest quality. Our commitment to customer satisfaction drives us to provide a seamless shopping experience.
With our secure online ordering system, you can conveniently browse our collection, choose your favorite designs, and have them delivered right to your doorstep. We also offer prompt and reliable shipping services to ensure that your cards arrive in perfect condition and on time.
Experience the joy of giving with our exquisite greeting cards. Shop now at Anza Blades and let your heartfelt messages create lasting memories.
Keywords: Greeting Cards, Blank Inside 4 Pack, Jewelry and Gems, Online Shopping, Anza Blades